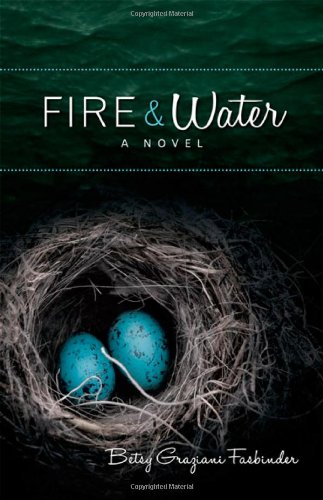 This book began as a single question in my mind.  Are artistic genius and mental illness inextricably linked?  Some of the most dynamically creative people seem also vulnerable to addiction, mental illness, and sometimes  suicidal feelings.  Perhaps it's their acute sensitivities that make them artistic innovators: they're able to see and experience this world on another level and strive to express what they see and feel.  Perhaps that sensitivity also makes the world a hard place for them to be a part of. This story is my attempt to bring compassion to the page when portraying a troubled artist and the family around him.
This story is, at its core, a love story, but it also explores the deeper meaning of family and friendship.
I'm especially proud of the audiobook version of Fire & Water. Voice artist Monica McKey and sound artist, Adam Sullivan were the perfect partners for bringing this story to life in another medium.
Of course, my
books
are available on Amazon, but I also encourage supporting local, independent bookstores whenever possible.  Please consider ordering my
books
through your local indie store or by using these links to order from my favorite indie store,
Book
Passage
, in Corte Madera, CA. They ship anywhere in the U.S. for free.  It may take a couple of days longer than Amazon, but by ordering this way helps to keep independent bookstores alive and thriving.  These shops are often not just retail stores for
books
; they're community centers that offer opportunities for people to learn about all kinds of writers and all kinds of subjects. Indie bookstores support authors, offer workshops, and celebrate a community of learning.
Also available at:
Only in the glaring light of hindsight does Kate Murphy understand that she was groomed for the path she's taken. She was raised by a widowed dad and a misshapen, sometimes comical trio of parental surrogates from Murphy's Pub, her father's Irish bar in San Francisco.

Kate's well-meaning family hides bitter truths about her mother's mental illness and death. Once this thread of family deception is pulled, the rest of Kate's family history unravels. Shaken by the family secrets uncovered, Kate turns to her best friend, Mary K, a hard-edged aspiring surgeon from Queens who doesn't miss a thing and names bull when she sees it.

Kate first encounters Jake Bloom as her patient in a hospital emergency room, but it is only later, when she experiences his sculptures on Ocean Beach that she is forever changed. Jake reveals beauty Kate has never noticed and exposes her to spontaneity, sensuality, and love deeper than she'd imagined it could be. Beneath Jake's brilliance lies the menace of his profound and treacherous mental illness that Kate has yet to discover.

Only Mary K is immune to Jake's charms. She is first to see Jake's dangerous potential, and, of course, she says so. Caught between her newfound passion and her friendship, Kate dismisses her friend's warnings. It is not until she is in too deep, with a daughter on the way, that Kate understands what Mary K feared on her behalf.

Fire & Water is Kate Murphy's story of navigating the treacherous territory of passionate love, friendship, and family devotion. It is the story of how love is always a matter of life and death.
---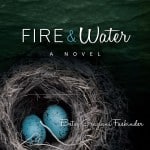 Fire & Water is now available as an audiobook. The riveting story is brought to life by veteran voice artist, Monica McKey. McKey's skilled performance makes each character vivid and unique while the dramatic story unfolds. Her rendition brings tenderness, power, and heart to every page giving Fire & Water another dramatic dimension. The audiobook of Fire & Water is available on Amazon, iTunes, and Audible.
---
What people are saying about "Fire & Water" by Betsy Graziani Fasbinder
 The soul of an artist meets a woman who finally admits love into her life—despite subtle signs of trouble. I could hardly put down Fire and Water. In one moment I was lost in an artist's dream, in another I was on the edge of my seat.  A memorable book by a wordsmith whose language enchants.Linda Joy Myers, Ph.D., author of Don't Call Me Mother—A Daughter's Journey from Abandonment to Forgiveness and Journey of Memoir—A Workbook
Set between the comfort of an Irish Pub and the intellectual buzz of San Francisco's UCSF, Fire & Water will take you on a breathless journey. You will find the funniest and honest best friend you could ever want, passionate sex with the likes of Picasso, and a story that will grab your curiosity and soul. Don't make plans once you turn the first page.Amy Peele, Author of Aunt Mary's Guide to Raising Children the Old Fashioned Way
An uncommon love story told with joy and pathos from a writer of exceptional talent. With fearless examination and a sure sense of pitch and pace, the novel reveals the moral predicament that Kate must ultimately face:  can the deepest expression of love become an instrument of its demise?Christie Nelson, Author of Dreaming Mill Valley and Woodacre
A heart-wrenching journey set against a richly drawn San Francisco Bay Area, Fire & Water deftly explores trust, wealth, family and the way love changes the shape of our hearts.  What a beautiful exploration of love and mental illness and family.  That I lived in the Bay Area for ten years only enriched my experience of this story. A triumph.Kim Culbertson, author of 2012 NCBA Winner Instructions for a Broken Heart
This book contains multitudes. You will not be able to put it down. Every character is richly drawn, captured in all of their flaws and gifts and Fasbinder's warmth and empathy for them all imbues every page. It celebrates the families we're born to and those we choose, it digs deep into the difficulties of wanting love and art in the same life. It examines the cost of being true to yourself all the while being a total page-turner. Is it possible to say that reading a book might actually make you a better person? I think so, and Fire & Water is just that kind of book. It's wonderful.Heather Donahue, author of 2011 Growgirl: How my Life After The Blair Witch Project Went to Pot
Betsy Graziani Fasbinder writes about ordinary human lives in an extraordinary way, revealing the secrets, desires, and fears that lie under the waters of everyday life. Her prose is deft, sure, and deeply wrought, her story one you will want to follow to the end.Jessica Barksdale Inclan, author of Her Daughter's Eyes and When You Believe
Fire & Water is simply a wonderful read. From the very first page, story and characters urge the reader forward.  Yet even as the plot rises and tangles, vital issues are examined: Can a surgeon, who thinks she can fix anything, fix a broken heart? A broken mind? Art, like life, is transient—is it worth sacrificing everything to experience the utterly sublime? What is family, really? With a discerning eye for detail, and some truly beautiful love scenes, Fasbinder takes the reader on a most compelling and satisfying ride, all the way to the final four words.Sands Hall, author of Catching Heaven and Tools of the Writer's Craft